2001 Cabernet Sauvignon, Napa (Coombsville)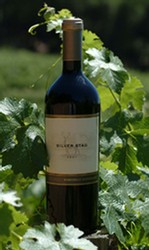 2001, now regarded as an excellent vintage for Napa cabernet, had winemakers nervous in the early going. A warm March was followed by freezing temperatures in April and then record highs in May. The weather stabilized in summer, however, giving the grapes a chance to ripen in mild and consistent temperatures from July through the harvest.
The combination of early thinning, a long, mild run-up to the harvest, a low yield of 1.87 tons/acre, and the warm microclimate of the Tulocay region (soon to be an official viticultural appellation—watch this space) has made our inaugural vintage a muscular and extracted wine. The 2001 is showing beautifully now, which puts oenophiles in a predicament: Cellar it to have an even more complex and nuanced wine in a decade? Or open it to enjoy one of the most powerful, unusual, and hard-to-get cabernets in the world right now. Six-bottle limit.
RELEASE DATE: 28 May 2004
SHIP DATE: We will ship whenever you require. We prefer shipping when the temperature in your area is between 32 and 90 degrees F.

Wine Specs
Varietal
Cabernet Sauvignon