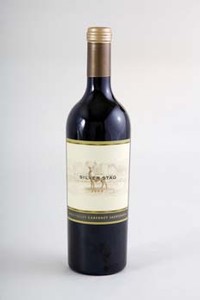 2011 Silver Stag Cabernet Sauvignon
2011 was a challenging year in the vineyard and we carefully picked and sorted this fruit by hand to ensure exceptional quality and wonderful handcrafted artisan wine. Approachable and elegant, this wine will age well into the next decade.
Wine Specs
Varietal
Cabernet Sauvignon
---
Product Reviews
Charles Hartranft

(Aug 9, 2013 at 4:25 PM)
Hands down the best wine I've ever tried!
Don Barber

(Nov 7, 2013 at 6:28 PM)
This cab has a wonderful fruit forward taste that even the least experience can notice. In it's newness it is delicious and given a few years to cellar it will become an excellent bottle to open on any occasion. I am not traditionally a Cab lover, but I went back to buy another six bottles after opening only the first of the two bottles I purchased.
Georgeann Krause

(Nov 22, 2013 at 7:50 PM)
This is a fabulous Cab! You can't just buy one ... it's that good!
Rudy Wang

(Dec 23, 2013 at 3:33 PM)
Opened a bottle of the '11 Cab the night I got it - due to its young age, I wasn't expecting too much; but man oh man, it blew me away (and my wife as well!)
Rush to the store and got a full case, hoping to at least keep a few bottles for cellaring; but it might be difficult - because it is already drinking so wonderfully!