2011 Silver Stag Cabernet Sauvignon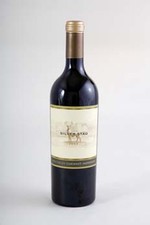 Dark deep violet color. Rich intense, and complex, delivering a bouquet of dark fruit and well integrated notes of toasted oak. The palate expresses concentrated layers of cassis, blackberries, blueberries, dark chocolate, leather, cedar box, and spice. Refined tannins coat the mouth with rich flavors of black fruit, roasted coffee, oak notes, and touch of mocha lingering on the long and seductive finish.
2011 was a challenging year in the vineyard and we carefully picked and sorted this fruit by hand to ensure exceptional quality and wonderful handcrafted artisan wine. Approachable and elegant, this wine will age well into the next decade.
Wine Specs
Varietal
Cabernet Sauvignon
Product Reviews
Charles Hartranft
(Aug 9, 2013 at 4:25 PM)
Hands down the best wine I've ever tried!
Don Barber
(Nov 7, 2013 at 6:28 PM)
This cab has a wonderful fruit forward taste that even the least experience can notice. In it's newness it is delicious and given a few years to cellar it will become an excellent bottle to open on any occasion. I am not traditionally a Cab lover, but I went back to buy another six bottles after opening only the first of the two bottles I purchased.
Georgeann Krause
(Nov 22, 2013 at 7:50 PM)
This is a fabulous Cab! You can't just buy one ... it's that good!
Rudy Wang
(Dec 23, 2013 at 3:33 PM)
Opened a bottle of the '11 Cab the night I got it - due to its young age, I wasn't expecting too much; but man oh man, it blew me away (and my wife as well!)
Rush to the store and got a full case, hoping to at least keep a few bottles for cellaring; but it might be difficult - because it is already drinking so wonderfully!
Bernard Gutnick
(Jun 17, 2014 at 11:28 PM)
It must be my lucky day! I met Harry Parsley at a store and picked up three bottles. It was a huge hit at our barbeque. I would say it is similar to Jordan Cabernet of Alexander Valley. Really excellent rich flavor. I'm hoping to be lucky enough to find another few bottles! Cheers!
Dixie Comesanas
(Jun 23, 2014 at 10:47 AM)
My husband bought a 2011 cab at Costco a few months back from Mr. Parsley. We opened it this weekend and were wowed by how awesome this wine is. Will Costco be getting any more of this Cab. I am bummed we didn't try it right away so we could have bought more.
wayman wong
(Sep 21, 2014 at 2:47 PM)
Just picked up a couple of bottle today. Rich fruits and great finish
Cameron Kossen
(Oct 10, 2014 at 9:48 PM)
Accidentally bumped into someone selling his wine at Costco. Few minutes of conversation, realized Harry is a serious farmer and wine maker. Grabbed 2 bottles of the 2012 Cab with little expectations. Decanted a half bottle and hour later, was very pleasantly surprised. Top Napa quality, delicate small lot production is obvious. My initial tasting notes: dark berries, structured, firm tannins, raspberry, leather and spice. Cocoa de cassis and nice velvety legs upon swirl. My wife enjoyed it thoroughly as well. I was telling her I need a case. Want to see how it cellars.
Michael Cottle
(Oct 27, 2014 at 9:37 PM)
This is the most under-rated winery in Napa. It is truly amazing. Every time I serve the Silver Stag Cab to guests they are truly amazed. I hope that they can continue to produce fantastic wines at affordable prices.